"Perhaps the blueprint of a life remained the same even if the place and people were different." ~ from The Salt God's Daughter
I have to be honest, I'm not the best reviewer of books. There are many other bloggers out there who do this on a regular basis, who are faster readers than I am, who can whip out a review in one days' time or less. I wish I were of their making.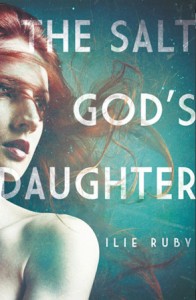 I am a slow reader. Even slower to process my experiences after reading a book. I'm a writer, after all. I like to sit with the words awhile, go back into the story, search for the parts I missed or misunderstood. I worry I won't do a book justice if I write about it in short order.
But, I immediately said yes to reviewing The Salt God's Daughter when Booksparks contacted me. I read Ruby's debut novel, The Language of Trees (my Q&A with her can be found here); I loved the story, the bits of poetic prose, the part that setting plays in the novel, and the mystery behind the characters.
My Review
The Salt God's Daughter carries on the legacy of Ilie Ruby's prose and amazing use of setting as character, telling the story of three generations of women – Diana, Ruthie, and Naida – who are caught in the magic of the moon and the ocean and in the complexities of mother-daughter relations. For Diana, the Farmer's Almanac becomes her guide for living, looking to each full moon for direction. Later, the almanacs become her journals, as she records bits and pieces of their nomadic lives in the margins. For Ruthie and Naida, the ocean acts as enemy and savior, drawing them into danger and then giving them sanctity, and life. In all three women, unpredictability, abandonment, and a need for home tear them apart and bring them back together again.
As in her debut novel, certain characters in The Salt God's Daughter pulled at me, like Graham, who appears in Ruthie's life unexpectedly and leaves just as quickly. Again and again he comes to her under the light of a full moon. And, at each sudden departure, I wanted him to return to the page as much as Ruthie longed for him to return her. The mysticism and folklore running throughout The Salt God's Daughter kept me wondering about the nature of the main characters, and the actions of characters on the periphery reminded me how quickly the world judges or oppresses those who are different from the norm.
My recommendation.
Do not read this book in bits and pieces. Certain stories can be read in small doses, but Ilie Ruby's novel is written with a poetic style and deserves a concentrated attention. Because of a hectic schedule, I read the book in short spurts, and there were times when I became lost. When I finished the book, I turned back to the first page and skimmed through it again, discovering subtleties that I missed the first time.
Do read this book with a friend, or those lovely ladies in your book club. There are parts in the story you will want to discuss, like Graham, his comings and goings and his ties to the ocean. Some places, you will want to go back and re-read, such as the night when a storm erupts and Naida disappears. Hints and clues – to the mystery of these women (and men) and the power the ocean and the full moon wield over them – may reveal more if uncovered in a group.
My favorite quotes.
"Many times abandoned, I now spent my life trying to hold onto people."
"Some places were so magnetic and full of energies that they drew the same people back, again and again."
"You needed to keep one hand behind you touching the wall of your past, and one hand in front of you, open to the future."
And, this passage:
"Once, in the gallows of our green stationwagon, my mother had spun an orange ribbon into my hair…to weave it in a braid. She rarely touched my hair. Hardly able to contain my excitement, I'd mad the mistake of a simple, "Ow," which made her let go. She'd let the ribbon fall on my shoulder. I knew it had all been lost just then, by what I'd done. . . . I'd wept loudly at the edge of the forest near the campsite, standing in my blue Dr. Scholl sandals, the morning air billowing my purple sundress. I'd howled into the trees. I'd almost caught her, my mother."
If you decide to read this book, Ilie Ruby provides discussion questions on her website. While perusing her website, click her events page to see if she's coming to a bookstore near you. Also, read this great review and Q&A on The Huffington Post between Ilie Ruby and Leora Tanenbaum.
And, much thanks to BookSparks for the opportunity to read The Salt God's Daughter.