Right after you bring that crazy busy week to a close, just as you head out of town with family, as soon as you think to yourself, No chance for writing, I'm sure, there you are, surrounded by inspiration and ideas, gifted with little pockets of time. That was me, last weekend: deep in the north woods, working hard no to worry about the book I wanted to finish reading and the interview questions I had to write and the blog post I needed to draft; thinking, if I won't have time to write, I might as well forget it. I might as well enjoy every minute of this last vacation of the season. It was then that creativity started popping up everywhere, and time expanded so I could scribble more words into my notebook than I expected.
The creative process is a process of surrender, not control.
~ Julia Cameron
Birch Tree Kingdom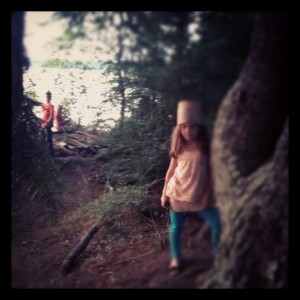 Three days in the woods is ample time for kids to create a whole world under a canopy of birch and pine. The path leading up to the Kingdom was lined with twigs and moss and gave way underfoot, slightly, hinting at the years it took to form and the relief in (finally) being discovered. There were birch bark crowns for everyone (taken from a fallen soldier), designated guards, and a store that ran on a strange stick-bartering system. I took mental notes. I drew from their free-spirited imagination.
Campfire Revelations
We burned only one camp fire over the weekend, and I'm glad I didn't skip the opportunity to sit in the circle. Besides the chocolate, graham crackers, and monster-sized marshmallows, camp fires are where stories are told, where people and real-life events spark a writer's mind with scenes for "that novel" or idiosyncrasies for characters barely developed. I made s'mores, listened intently, then ran inside and wrote down those ideas. Because, bits and pieces of different conversations often come together to form whole, made-up stories.
Endings
Like the last few pages in a good book, the sunset on the final evening brought the rush of fun to a quiet, satisfying close. I had just walked the path of Birch Tree Kingdom when I turned and saw the shades of pink riding along the water and sifting through the clouds. The boat turned over, hunkered down for the winter, was the final image I noticed.
In that moment, I realized the whole weekend had been one long and unplanned artist date.
Artist Dates fire up the imagination. They spark whimsy. They encourage play. …[Art feeds] our creative work by replenishing our inner well of images and inspiration.
~Julia Cameron, on juliacameronlive.com
Sometimes, letting go of the work is as important as doing the work.
What surprised you this week and sent you running to your notebook?
Like what  you see? Click here to receive weekly blog updates via email.