Today, I welcome Rob Riley, whose book, Portrait of Murder, was released by Orange Hat Publishing in February 2012. Rob shares about the journey to becoming Writer, Author.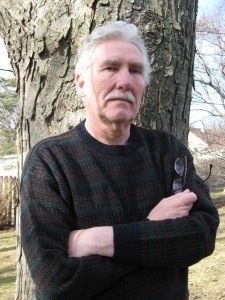 The instinct to write novels has been within me since my earliest memories. It didn't take form for a long time. I was a sports fanatic – football, baseball, basketball, high school letterman's club. Academics? I didn't even know how to spell the word until well into adulthood. (I kid; had that one nailed by age 20, at the latest.) But my imagination knew no depths, nor did it ever take a break. I loved all forms of entertainment, played the clarinet, and read books, all when the mood came upon me. Undisciplined? Absolutely. But I was unwittingly planting the seeds of what would eventually be a breakout lunge toward writing crime fiction novels.
It was a circuitous route. At age 19 I became a police aide for the Milwaukee Police Department, became a sworn officer at age 21, and immediately began working as an undercover narcotics agent. Seven hectic years of doing that led to a promotion to detective, investigating major crimes. My supervisors always said that I wrote excellent reports. They actually recruited me to do sensitive investigations because of my skills. Busy though I was, I always found time to read: Faulkner, Hemingway, Steinbeck, Hammett. I was always drawn to classics of that era. And I came to think I bet I could do something like that. I began thinking of my own story ideas.
But I was a police detective, and was making a living. In my early 30′s I investigated the murder of a fellow police officer, and friend. My partner and I arrived on the scene a couple minutes after  his radio call for help. He was dead where he lay, in an abandoned pool hall, as was his killer. We were there for hours, with a dozen additional officers helping us process the scene. You could have heard a pin drop. For me, it was a pivotal moment.
That kind of experience puts gadgets in a budding writer's toolbox. There were other similar ones during my career, but that was the worst. That one hurt.
During that time – not coincidentally, I later realized – I signed up for a correspondence writing course, writing short stories. I wrote about 20 of them, and some very patient instructors broke me in with line editing, and character and plot development. I got nothing published, but I got more than my money's worth.
In 1994 I joined a novel writer's workshop. The instructor was a man of high achievement in both the writing and the teaching worlds. He had 40 novels published. Lived in Dubuque, Iowa. I lived in Milwaukee, Wisconsin. 175 miles apart. I drove to his home and back on one Saturday of each month for the next 13 years. Wrote six complete novels, each one edited by my writing "coach," (we were not allowed to call him teacher) and critiqued – sometimes almost savagely – by my workshop classmates. None of them were published, although several hundred rejection notices showed that I was trying.
During that time I wrote five days a week, two hours a day. My coach was rigid with his instructions on my schedule. Too much writing at one time will drain you, he said. I did what I was told, and was eventually told that I was "a darn good writer." Six unpublished manuscripts in your desk drawer leaves you with doubts, but I was determined never to quit.
The first three books were supernatural thrillers. Who could have figured that? It was simple. I was still a cop, and I needed an escape. And I'd always loved horror books and movies. Good ones, not the modern day hacker/slasher type. When I retired from the police force in 2001 I switched to my bailiwick, police procedural fiction. Crime mysteries, to be exact. The change had been unexpected: One day I began reading Raymond Chandler's The Big Sleep, a story about Philip Marlowe, a cynical, wise acre detective telling a first person account of how come and why he was so cynical, and such a wise acre. That was all it took.
I switched genres. The next three books are about private investigator Jack Blanchard, a former Milwaukee police detective who left the department in a huff, to do his own, lone wolf style investigating of myriad legal matters.
Portrait Of Murder.
Dead Last.
Unto The Father.
Portrait Of Murder was published earlier this year. The next two are patiently waiting their turn.
Rob Riley lives with his wife, Mary Lynne, in southeastern Wisconsin. He spent thirty-two years as a Milwaukee police officer: seven years doing undercover narcotics investigations and twenty-two years as a major crimes detective. Writing and reading have been lifelong passions, and he began by writing short stories more than thirty years ago. Of course, police work provided both the inspiration and insight for his PI mystery novel, Portrait Of Murder. Two additional novels in a series that features his main character, Private Investigator Jack Blanchard, have been completed. The author may be contacted at  rob.riley101@yahoo.com.
About the Book:
PI Jack Blanchard is hired by his close friend to find his missing sister, who has a long history of drug addiction. Blanchard has little trouble finding her, but subsequently becomes entangled in an investigation that links the past murder of her drug dealer; the current murder of a top City Official – and a mind bending expanse of government corruption that involves the police department, and leads directly to the Mayor's office. With disparate sources providing help – a prison inmate who had been an eye witness to key events, and Juanita Velez, head of the Social Services Department – PI Blanchard comes upon a twisted tale of criminal behavior and multiple murders, and a shocking conclusion that no one could have anticipated.
Portrait of Murder is available for purchase on Amazon in paperback or on Kindle.
Like what you see? Click here to sign up for weekly blog posts from Writing Under Pressure via email.